TC-Helicon VoiceLive Touch 2
Effects: Iincludes effects from the VoiceLive2 including HardTune
Mic-preamp: Yes
Available dynamic modules: Various
Available filter modules: Various
Displays: Touchscreen
Inputs and Outputs: XLR Mic, Guitar In; Through guitar via 6.3 mm jack, MIDI or USB / AUX-In, XLR and jack-out, headphone output
Features: for mounting on microphone stands, including Looper
Presets: more than 200 Presets
External Dimensions: n/a
more
less
In stock
Available immediately
---
10066157
Item number:
---
01/2013
Available since:
---
Product Video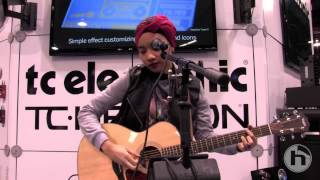 TC-Helicon VoiceLive Touch 2 · Multi-Effects
A class apart
With vocal effects in "state of the art" quality, outstanding performance looping, and an intuitive touch user interface VoiceLive Touch 2 singers opens up previously not conceivable degrees of freedom and creative possibilities for their live sound. A worthy successor to the original, the VoiceLive Touch 2 all vocal artists more opportunities to develop the potential of their voice to create new sounds and entrain their audience.
- Full range of vocal effects (including Harmony) studio quality
- Touch Slider matrix interface with FX ™ for real-time control and modulation
- VLOOP ™ performance looper with six lanes and exceptional, loop-specific effects


Professional vocal sound on the go
It is not easy, a great vocal sound to bring to the stage. With an adaptive equalizer, compression, de-essing and gating VoiceLive Touch 2 automatically provides a solid sound. And who does not need to worry about the basics can instead enjoy the full range of tonal possibilities: of hyperactive echoes and slaps on aggressive distortion and HardTune effects and noble reverbs and Doublings to the goosebumps harmony voices à la TC-Helicon.
- Adaptive Tone - with compression, "Shape" EQ and de-essing
- Rhythm module produces "stutter" - and "chopping" effects
- Subtle pitch correction, the notorious HardTune - and everything in between
- Perfect harmony voice, reverb, delay, doubling, and more.


Via touch-buttons up close
Fast times add harmonies, megaphone effects or to the song tempo matching echo? With the touch keys, the effects artists and sound colors "seamless" Add or off, as he sings. The slider bar allows you to produce by simply wiping with a finger dramatic effects and sound variations. And each preset by tapping the "hit" button can be a real Turbo switched from additional effects.
- The Slider Bar dramatic new sweep effects produce, quickly switch to another preset level or adjust settings
- Fast access to 36 performance features with the touch matrix
- Easy and intuitive Editing presets using an icon-based user interface - Advanced editing functions can be called as needed.


Cloning Made Easy
Those who want more out of their voice ... it multiplies! With intelligent looping functions, a singer easily create an entire composition - without tape. VoiceLive Touch 2 is equipped with six lanes loop function, it provides plenty of storage for loops and optimizes the LoopAssist ™ function of the timing loops. There are also exciting extras such as resonant filters, stutter and reverse effects, which can very quickly create a fascinating, unique vocal creations.
- Stereo looping the signals from all inputs plus effects on up to 6 lanes
- LoopAssist ™: Metronome and quantization for precise, reliable "round" Loops
- Custom loop effects: reverse, filter, Slow Speed, squeeze and squeeze car.


 Creativity in the blood
 Professional users of the original VoiceLive Touch have supported us in the directed evolution of a successor. So, for example Kimbra - a young New Zealander who is well on its way to world fame - with TC-Helicon worked together when it came to define new MIDI capabilities for the creative use of real-time controllers.
 
 
 Styles and genres without boundaries
 Using the GENRE function allowing hundreds of presets Browse effortlessly. Simply select a style - and VoiceLive Touch 2 shows all matching presets. But since you really can never have enough good sounds, TC-Helicon will continue every month to provide new and exciting artist presets for free download. With the VoiceSupport they can be transferred directly into the VoiceLive Touch 2nd
 
 
 Time for a hit!
 The HIT feature allows singers on stage to integrate surprising and dramatic changes in their songs. Each preset has two variants (A and B), where the singer can switch between the HIT button. Turbochargers for the chorus or just the "basics" in the verse? Each, as he wants!
 
 
 A set of attentive ears
 The device's built-in stereo microphones Room Sense are conceivable versatile. When these microphones capture the sound of an instrument, it can be used to control harmonies are used. When practicing with headphones replace wired mics, and the in-ear monitoring, they provide pleasant ambient sound.
 
 
 Full control
 The Mic Control function allows the selection of presets, the switching on of performance effects and loop control using a suitable microphone (TC-Helicon MP-75 or Sennheiser e 835 fx). Also used the foot switch is available as an accessory third
 
 
 Features
 - Touch matrix with nine fields for fast processing and control
 - Particularly sensitive FX slider bar for intuitive sound experiments
 - Per hit button among several effects or effect sets switch - from Basics to "Full Lotte!"
 - Per Tap Tempo button to delays and rhythm effects in real time adapted to the song tempo - Tone feature with adaptive EQ, compressor, gate and de-esser
 - Perfect harmonies and pitch correction by automatic pitch detection
 - Easily customize the styles and effects by icon-based interface
 - Comprehensive, free library of song and artist presets
 - Switch 3 footswitch for convenient hands-free control
 - Reverb, modulation effects and integrated tuner for guitar input - Innovative housing design allows mounting on microphone stands or the (non-slip) operating as a desktop unit
 - High Quality Mic Preamp
 - USB interface for audio recording and playback, backup presets and other functions
 - Supports Mic Control ™
 
 
 Built-in Effects
 - ΜMod: generates flanger, detune, chorus and pitch effects
 - Delay tempo or time-based echo, slaps and extensive filter Styles
 - Reverb: Reverb extremely transparent - overtones of rooms over magnificent Hall reverb to giant arenas
 - Harmony: follow up to four backup singers, the perfectly arranged a guitar, keyboard or audio track
 - Choir: creates the impression of a large group of singers - suitable for combination with the Harmony effect
 - Double: vocals make it sound through virtual doubling / multiplying "fatter"
 - Transducer: simulates the sound of radios, megaphones and distortion pedals
 - Rhythm: can another tempo-based module, chop the signals in the stereo move and edit modern "stutter" effects
 - HardTune: autotuning, change pitch and Gender
Multi-Effects · TC-Helicon VoiceLive Touch 2
This item was given an average rating of 4.5 out of 5 stars. No review about this product has been written yet. 2 ratings exist without a text or these reviews are written in another language.
Martin Diekmann