Roland HP603A CR Digital Piano
Typ av tangent: PHA-50 wood/ synthetic Keyboard (Hybrid) with action point simulation and synthetic Ivory surface
Antal tangenter: 88 Tangenter
ljudgenerering: SuperNATURAL Piano Modelling-sound generating
Ljud: 307 sounds, e.g.Acoustic Pianos, E.-Pianos, Strings, Organ and many other Sounds
Piano-effekter: Intonation, Damping resonance, Damping sounds , string resonance, Key-off Effect, hammer sounds
Polyfoni: praktiskt taget obegränsat
Effekter: Hall, brilliance
Lägen: Dual, Split, Twin Piano (Tutor / Scholar mode)
Metronom: ja
Egenskap(er): Bluetooth-MIDI - wireless connection with Smartphones and Tablets for usage with Musik-Apps
Sequencer: SMF Recorder med 3 Spår
Mp3/Wave-Player/Recorder: Mp3/Wave-Player och Recorder
Anslutningar: 2x hörlurar 6,35 mm tele , Line Out (L/Mono, R), Line IN (3,5 mm stereotele), USB to host, USB to device,
Lagringsmedium: USB Stick
USB/Midi: USB to host, USB to device
Effekt (Watt RMS): 2x 30 W
Display: LCD Display
Färg: Rosenträ
Yta: Satinerad
Vikt: 49,9 kg
tangentbord-cover: ja
Mått (BxHxD): 1379 x 1064 x 430 mm
Lev. med: Instructions, Roland Classical Piano Masterpieces Roland Piano Arrange Collections Let's enjoy Piano, Mains adapter, power cable, Headphone holder,
mer
mindre
Roland HP603A CR Digital Piano · Digitalpiano
mer
mindre
Betyg
Det fins ingen recension på denna produkt
›
Var först med att betygsätta denna produkt!
mer
mindre
Pris inkl. moms.
I lager
Denna produkt finns på vårt huvudlager och kan skickas omgående.
---
10102536
Artikelnummer:
---
12/2017
Tillgänglig sedan:
---
›
Utskriftsvänlig version
Videoklipp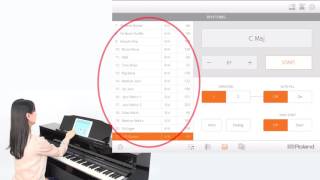 Documents
Bedienungsanleitung HP-603
Råd & Support
Sebastian Engling
Tillbehör
Beyerdynamic DT 770 PRO 32 Ohm
1 411 kr
Collins PB 100 B Pianotillbehör
816 kr
Roland RH-5 Hörlur
273 kr
K&M 13901 Pianotillbehör
1 832 kr
K&M 13980 Pianotillbehör
3 494 kr
Focal Sphear Hörlur
1 331 kr
Hitta liknande produkter: