Marshall AS100D
Combo-Transistorversterker voor Akoestische Gitaar
Vermogen (watt rms): 100 W (4 Ohm)
Aantal Kanalen: 3
Electronica: 3-band-EQ per kanaal
Effecten: 16 Geïntegreerde Digital Effects (stereo)
LF-/Breedband-Driver: 2x 8"
HF-Driver: Horn
Ingangen: 3
Uitgangen: Stereo-Out, Direct Out/XLR
Afmetingen (BxHxD): 60,0 x 51,0 x 27,0 cm
Gewicht: 23,5 kg
meer
minder
Marshall AS100D · Combo Akoestisch
Marshall Acoustic AS 100 D
100W acoustic soloist combo

For the acoustic player who wants it all, Marshall offers the comprehensively featured and powerful AS100D - a 50W + 50W, 2x 8" combo with two high fidelity, polymer dome tweeters. The AS100D has been specially designed for use with a variety of acoustic instruments - between its four channels, this combo has the flexibility to handle instruments with piezo transducers or magnetic pick-ups, plus microphones, for both vocal and instrument reproduction. For those using two pick-ups via a single stereo jack, the two main Acoustic Channels (1 and 2) can be linked together via a ´Link´ switch, affording you independent Volume and EQ controls for each pick-up. The other two channels are a dedicated Microphone channel (3) and an Auxiliary channel (4), the latter of which has phono (RCA) stereo inputs specifically for use with external audio equipment. The AS100D houses an internal limiter to ensure you can achieve maximum output while your sound remains distortion free.
Even though the AS100D´s 50W + 50W stereo configuration offers more than enough power for many typical acoustic music venues, a stereo pair of balanced XLR DI outs and line outs allow you to connect directly to an external PA system for larger venues. When playing live, one of the most difficult aspects of amplifying acoustic instruments is unwanted feedback. To help eliminate this, the AS100D features several ´anti-feedback´ controls, including an individual Phase switch on channels 1, 2 & 3, plus two frequency controllable Notch Filters with selectable extra depth for channels 1 & 2.
The superb quality of the 16 built-in, adjustable stereo digital effects (10 Reverbs, Delay, Chorus & more) adds an entirely new dimension to the already wide range of sounds this professional combo has to offer. Additionally, there is also a stereo parallel effects loop, complete with level control, on the rear panel. Compact and portable, the stylish AS100D offers great flexibility and is the ideal amplifier for the acoustic player who wants the highest quality performance, with absolutely natural tonal reproduction.

Believe it or not, the Marshall design team does not consist solely of metal heads, rockers and blues lovers. As proven by the splendid clean sounds of the AVT and JCM2000 series, the team also has a much more sensitive side!
Their critically acclaimed acoustic combos, the AS100D and the AS50R, are further proof of the diversity of expertise within their design team. When designing amplifiers for acoustic guitar, while many of the functions and features may differ from their electric guitar counterparts, the same appreciation of tone is essential, as is listening to customer feedback.
As a direct result, innovative features, clear and natural tone, plus stylish looks are what both the AS50R and the AS100D combos are all about.

Marshall Acoustic Soloist
De Marshall Acoustic Soloist Serie richt zich speciaal op de akkoestische gitaristen. Tot de basisuitrusting behoren 2 onafhankelijke kanalen, feedback-onderdrukking, digitale effecten en extra XLR ingang. De krachitge kompakte Full-range systemen geven akkoestische instrumenten een puur en natuurlijk versterkt geluid.
meer
minder
Beoordelingen
Dit product is met gemiddeld 4.9 van 5 sterren beoordeeld. Er is nog geen schriftelijk rapport opgegeven. 18 Beoordelingen zijn zonder tekst opgegeven of in een ander taal geschreven.
meer
minder
incl. btw & verzendkosten
Op korte termijn beschikbaar
Binnen 3-5 werkdagen weer beschikbaar.
---
6608004
Artikelnr.:
---
09/2002
in assortiment sinds:
---
Productvideo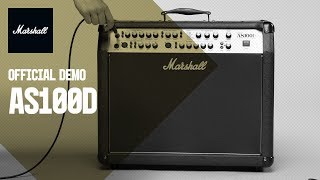 Advies & Support
Laura Lange
Toebehoren
Boss TU-01 Chromatic Tuner
€ 9,90
Korg Magnetune Tuner
€ 3,52
Boss TU-88 WH Tuner
€ 29,00
Boss TU-03 Chromatic Tuner/Metro ...
€ 23,10
Klanten die in dit artikel geïnteresseerd waren, keken ook naar de volgende producten:
Aanverwante producten vinden: