Latin Percussion Galaxy LP811Z
Type: Requinto
Diameter: 9,75" (24,77 cm)
Soort Vel: Hoogwaardig Natuurvel
Ketel Hardware: Goud
Kleur / Finish: Black Hologram Sparkle
Afwerking: Holo Flake Glitter
Hoogte Conga: 30" (76,20 cm)
Body Materiaal: Glasvezel
Accessoires: Stemsleutel
meer
minder
Latin Percussion Galaxy LP811Z · Conga
LP811Z LP Galaxy® Fiberglass Requinto

LP Galaxy® Fiberglass Congas are the ultimate fiberglass congas ever made. These newly improved drums now feature the Extended Collar Comfort Curve® II Rim which increases tonal range, and ProCare Integrated Shell Protectors. Their loud sound will cut through any live performance and their 30" tall silhouette, wide belly and narrow bottom help to create rich, deep bass and crackling highs.
The inside upper half of the drum, where the greatest stress occurs, is reinforced with Kevlar® fiber, the bullet-proof vest material that is two times stronger than steel. In addition, each fiberglass shell has a steel ring embedded in the bearing (top) edge for added strength.

LP Galaxy Fiberglass Congas feature hand selected, rawhide heads. The heavy duty hardware has a gold tone finish. It includes 3/8" diameter tuning lugs, and reinforced LP Heart® Side Plates, each secured with three bolts and a backing plate.

The exclusive LP Galaxy glitter finish is a space age sparkle that defracts light into a spectral effect which dances under stage lighting.

Each LP Galaxy Fiberglass drum comes complete with LP Galaxy ProCare Integrated Shell Protectors that prevent the side plate hardware from marking or damaging adjacent drums. This new compact design offers maximum protection without detracting from the drum´s beauty. An accessory pouch, a tuning wrench and LP Lug Lube are also included.
meer
minder
Beoordelingen
bij dit product is nog geen beoordeling afgegeven
›
Beoordeelt U als "premiere" dit Product!
meer
minder
incl. btw & verzendkosten
Op middellange termijn beschikbaar
Waarschijnlijk leverbaar binnen 7-14 werkdagen.
---
4303806
Artikelnr.:
---
09/2002
in assortiment sinds:
---
Productvideo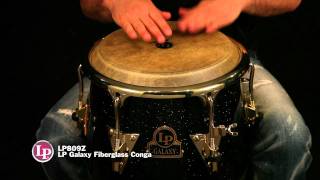 Advies & Support
Vlad Ivanov
Toebehoren
Soundbrenner Pulse Metronoom
€ 95,00
Boss DB-30 Metronoom
€ 24,40
Latin Percussion LP452 Multiguiro
€ 55,00
Latin Percussion LP442F Finger S ...
€ 5,20
Boss DB-60 Metronoom
€ 61,00
Gon Bops Rattleclap Vibra slap
€ 18,90
Klanten die in dit artikel geïnteresseerd waren, keken ook naar de volgende producten:
Aanverwante producten vinden: