Brian May Special AC
Kleur / Finish: Antique Cherry
Ontwerp: Solid Body met klankkamers
Vorm: overig
Aantal Snaren: 6-snarig
Nek Constructie: Gelijmd (Set-In Neck)
Aantal Fretten: 24
Body Materiaal: Mahonie (Mahogany)
Hals: Mahonie (Mahogany)
Toets: Ebbehout (Ebony)
Toets Inlays: Dot Inlays
Pickup Configuratie: S-S-S, 3x singlecoil
Hals Pickup: Tri-Sonic Style
Pickup Midden: Tri-Sonic Style
Brug Pickup: Tri-Sonic Style
Pickup Selector: Slide Switch
Regelaars: 1x Vol, 1x Toonregeling
Bridge/Tremolo: Wilkinson Tremolo
Hardware Finish: Chroom
Inbegrepen: Gigbag
Geproduceerd in: Zuid-Korea
meer
minder
Brian May Special AC · Elektrische Gitaar
Burns Brian May Signature Electric Guitar
The Official Brian May Signature Guitar

The Brian May Signature Guitar delivers incredible replication of the Red Special´s resonance and sound quality. The three Burns Tri-sonic pickups wired in series, handmade to the original design, deliver the punch, bite, and clarity you´ve always wanted.
Fame Not Included
While fame may not be included, almost every other feature of the original Brian May "Red Special" is. Play this guitar and you'll hear the incredible replication of the Red Special´s resonance and sound quality. Get the punch, bite and clarity you've always wanted, with three Burns Tri-Sonic pickups wired in series, handmade to the original design.

Expand Your Musical Reach
Expand your musical reach into new sound— including the style made famous by Brian May and Queen—with 21 combinations of pickup switching. Play where you've never played before with a fully accessible 24-fret neck. While using the exceptionally comfortable whammy bar, auto-locking Grover tuners ensure you stay in tune. From rock and funk to blues and jazz... the official Brian May Signature Guitar helps you express your every mood.

Features
21 possible pickup switching combinations
Fully accessible 24-fret neck
Exceptionally comfortable whammy bar
Auto-locking Grover tuners
Master tone and volume controls
Bi-directional truss rod
Trem bar
Binding Top
Body Mahogany
Bridge/Tremolo Tremolo
Controls Master tone, master volume, on/off and phase reversals switches for each pickup
Fingerboard Ebony
Frets 24 medium
Inlays Dot position inlays
Machine Heads Locking Grover tuners
Neck Joint Set-in
Neck Material Mahogany
Pickguard Black
Pickups Triple Burns Tri-sonic pickups
Scale 24"

In vintage cherry

In the history of the electric guitar, no other guitar has had such an iconic status as Brian May´s Red Special. Even such treasures as Hendrix´s white Strat, Jimmy Page´s ´58 Les Paul Standard and Jeff Beck´s battered Esquire pale into insignificance simply because, rare though they are, those models were production instruments. It is not only Brian May´s music that makes this guitar special, but rather what makes the Red Special unique is it was made at home by two people -Brian and his dad -who had no prior experience of guitar building.

Stories of the construction of the Red Special are nearly as legendary as the guitar itself! The use of:
- motorcycle saddle springs,
- knitting needles
- pearl shirt buttons,

not to mention a mantelpiece riddled with woodworm holes - have become legendary. But what is so important, is that the guitar turned out to possess several innovative designs that have yet to be fully copied by other manufacturers, even today.
meer
minder
Beoordelingen
Dit product is met gemiddeld 4.9 van 5 sterren beoordeeld. Er is nog geen schriftelijk rapport opgegeven. 27 Beoordelingen zijn zonder tekst opgegeven of in een ander taal geschreven.
meer
minder
incl. BTW,
Gratis verzending
Besteld
De leverancier kon ons nog geen leverdatum geven.
---
3172029
Artikelnr.:
---
09/2002
in assortiment sinds:
---
Productvideo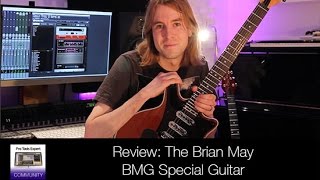 Documenten
Brian May - Pickup Schaltung
Advies & Support
Axel Pralat
Toebehoren
Boss TU-3 Chromatic Tuner, Tuner

€ 72,-

Tonträger TG25E/GB, Gigbag Electr. Gitaar

€ 34,-

Karl's Studio-Wire 6 m K/K, Instrumentenkabel

€ 63,-

Karl's Live-Wire 3 m WK/K, Instrumentenkabel

€ 28,-

Boss TU-03 Chromatic Tuner/Metronom, Tuner

€ 17,90

Karl's Laser-Wire 3m K/K neon pink, Instrumentenkabel

€ 29,-

Karl's Laser-Wire 3m K/K neon rot, Instrumentenkabel

€ 29,-

Karl's Laser-Wire 3m K/K neon grün, Instrumentenkabel

€ 29,-

Karl's Laser-Wire 3 m K/K neon gelb, Instrumentenkabel

€ 29,-

Karl's Laser-Wire 3m K/K neon blau, Instrumentenkabel

€ 29,-

Karl's Laser-Wire 6m K/K neon pink, Instrumentenkabel

€ 38,50

Karl's Laser-Wire 6m K/K neon rot, Instrumentenkabel

€ 38,50

Karl's Laser-Wire 6m K/K neon grün, Instrumentenkabel

€ 38,-

Karl's Laser-Wire 6m K/K neon gelb, Instrumentenkabel

€ 38,50

Karl's Laser-Wire 6m K/K neon blau, Instrumentenkabel

€ 38,50

Swiff CB10 Cable Free Pedalboard., Pedaalbord

€ 121,-

Swiff AP01 Distortionista, Effectpedaal Gitaar

€ 77,-

Swiff AP02 Earthpulse, Effectpedaal Gitaar

€ 77,-

Swiff AP04 Firefuzz, Effectpedaal Gitaar

€ 77,-

Swiff AP05 Knocker, Effectpedaal Gitaar

€ 77,-

Swiff AP07 Overland, Effectpedaal Gitaar

€ 77,-

Swiff DP01 Kosmoverb, Effectpedaal Gitaar

€ 86,-
Klanten die in dit artikel geïnteresseerd waren, keken ook naar de volgende producten:
Aanverwante producten vinden: